October 15 2021
Update on the Myanmar Longhouse Fundraiser
As of October 13th we have raised $6135 towards the Myanmar Longhouse Project. Special thanks to the Ladies of the Faith Sewing group. Their Blanket Sale contributed $1425 in support of this project. Sincere thanks also to everyone else who has contributed to this very worthwhile project.
The cutoff date for this project will be November 15th. Dare we hope that we could raise the full amount of $9810 for the building of one longhouse by that date?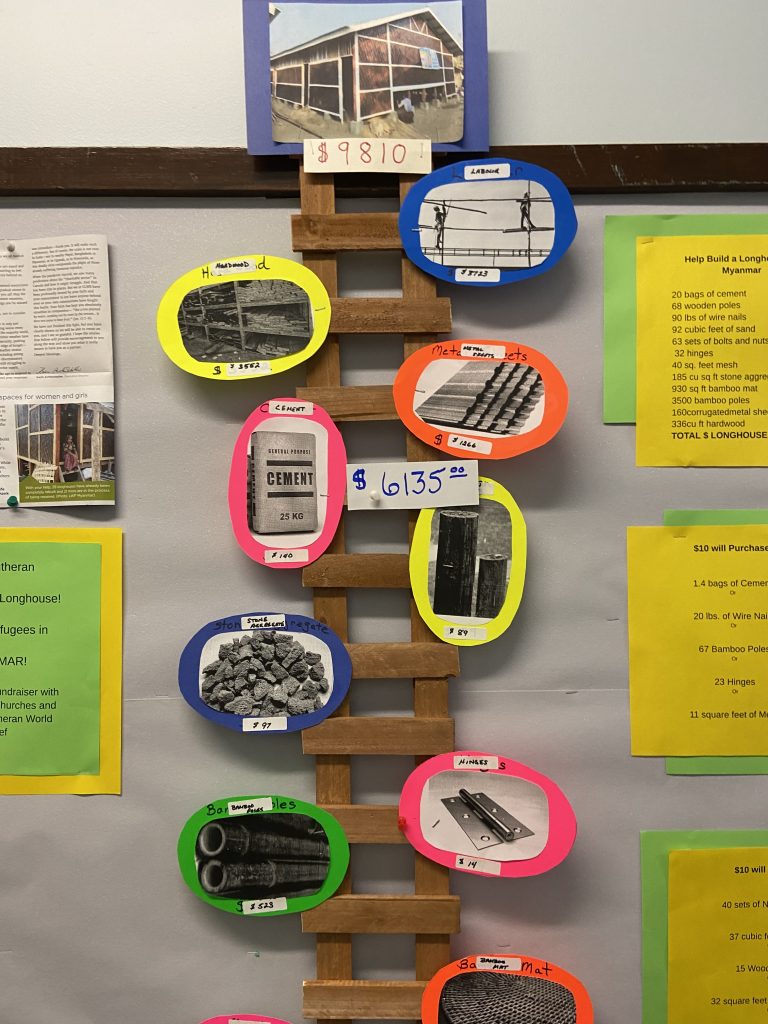 ---
Update on the Myanmar Longhouse Fundraiser – As of Sep 5 2021 we have reached $2500 donated. We are doing well so far.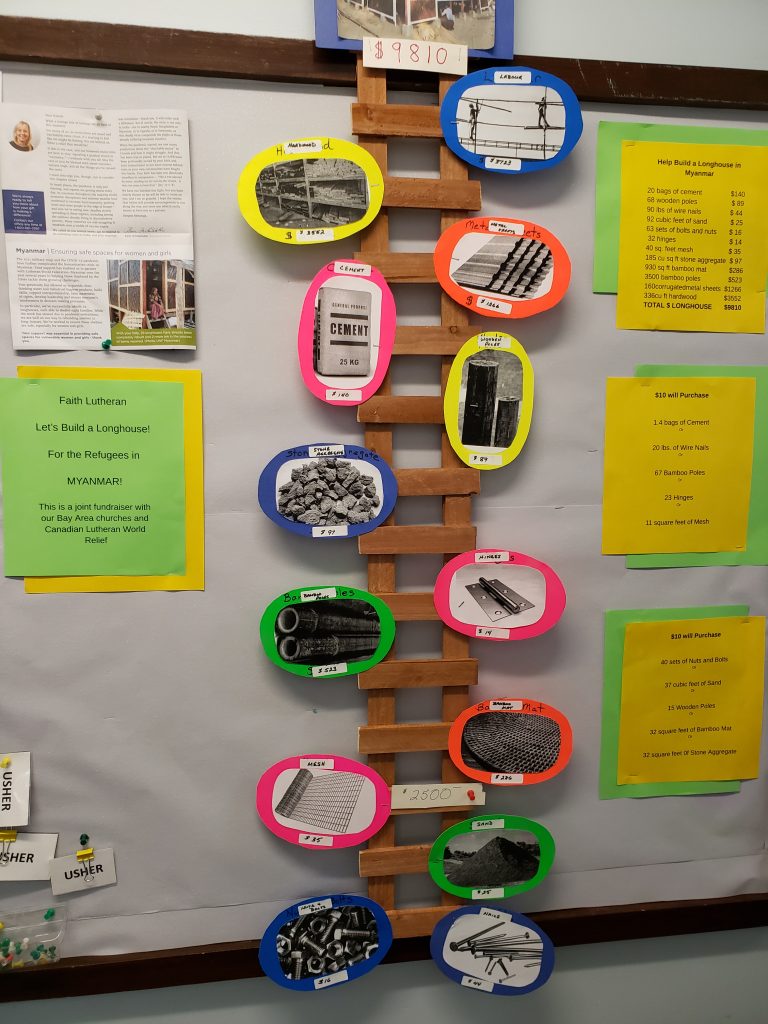 ---
Myanmar Longhouse Fundraising Project
August 24, 2021 – Update
As mentioned in a previous post, we are participating in a project to raise funds to help build longhouses for refugees in Myanmar. Trinity Lutheran Church Hamilton and Christ Latvian Lutheran Church Hamilton are also fundraising for this project.
The attached photo shows the various components needed to build one longhouse, along with the cost of each component. The white oval on the ladder shows the $1275.00 that we at Faith have donated to the project as of August 22, 2021. The project will run until the end of 2021. Let's see if we can raise enough to build at least one longhouse!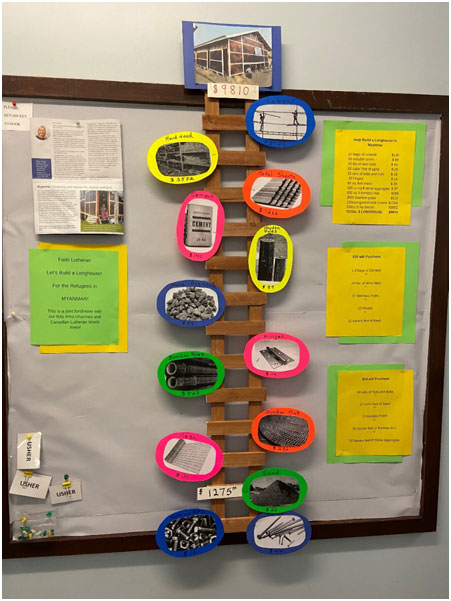 MYANMAR LONGHOUSE FUNDRAISING PROJECT
July 23, 2021
Refugees in Myanmar are facing political violence, oppression, and tyranny. Innocent people are fleeing from their homes and living as internal refugees in their own country. They need our compassion NOW. CLWR's goal is to build 29 longhouses to shelter these refugees. The cost for one longhouse is $9810. More information available at: clwr.donorshops.com/product/A202104S/spring-appeal
Please join Trinity Lutheran Hamilton, Christ Latvian, and Faith Brantford to raise enough money for one longhouse. You may donate through your offering envelope or by an E transfer to Faith's Email faithlutheran1@bellnet.ca
The following is a breakdown of expenses for this project:
20 bags of cement $140
68 wooden poles $89
90 lbs. of wire nails $44
92 cubic ft. of sand $25
63 sets of bolts and nuts $16
32 hinges $14
40 sq. ft. of mesh $35
185 cubic ft. of stone aggregate $97
930 sq. ft. of bamboo mat $286
3500 bamboo poles $523
160 corrugated metal sheets $1266
336 cubic ft. of hardwood $3552
Labour $3723
Entire longhouse $9810