FAITH LUTHERAN CHURCH Tel: (519) 753-3833
Email: faithlutheran1@bellnet.ca
Website: https://faithlutheranbrantford.com
1. SUNDAY IN LENT February 26, 2023
Gathering
Welcome, Land Acknowledgement, Announcements: Call to Worship: All Who Are Thirsty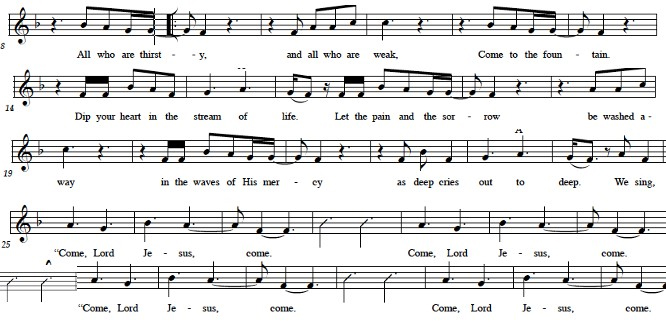 ** Second Chorus is "Holy Spirit, Come" **
Confession and Reassurance:
God in the shadows,
We admit to you God, our struggle.
We confess that in our busy lives, we do not often take the time the reflect.
We confess that sometimes we forget the pain of the world around us, simply because it is easier to turn away.
We confess that we are lonely, yet we shy away from making
connections in our communities.
We confess that we are not kind enough to ourselves, and by extension, our global family.
Give us strength God, to journey on. Give us guidance, to follow your path.
Give us patience, to seek your reassurance, and to forgive ourselves. And turn us, again, to you.
Gathering Hymn: Bless Now O God, The Journey ELW 326
Prayer of the Day:
Gracious God, out of your love and mercy your breathed into dust the breath of life, creating us to live in community together with you. Call forth our prayers and acts of kindness and strengthen us to face our mortality with confidence in the mercy of your son, Jesus Christ, Our saviour, Amen.
Word
First Reading: Genesis2:15-17, 3:1-7 Response to Reading: Word of God, Word of life, Thanks be to God.
Gospel Acclamation: Restore in Us O God ELW 328 (Verses 1-3)
Gospel: Matthew 4:1-11
Response: Glory to you, O Lord.
Response to Reading: The Gospel of the Lord, Praise to you, O Christ.
Sermon: Vicar Bethan
Hymn of the Day: Tree of Life and Awesome Mystery ELW 334 (V1-3 & Lent 1 Words)
Imposition of Ashes:
Accomplish in us, O God, the work of your salvation.
That we may show forth your glory in the world.
By the cross and passion of your Son, Our Saviour
Bring us with all your saints to the joy of his resurrection.
Prayers of Intercession:
Response to "Merciful God:" Receive Our Prayer.
Lord's Prayer: p. 134
Offertory Hymn: Blessed be your Name
1. Blessed be your name when I'm found, in the desert place, though
I walk through the wilderness, Blessed be your name.
2. Blessed be your name, on the road marked with suffering, though
there's pain in the offering, Blessed be your name.
Refrain: Every blessing you pour out I'll turn back to praise. When the darkness closes in, Lord, still I will say, "Blessed be the name of the Lord, Blessed be your name. Blessed be the name of the Lord, Blessed be your Glorious name.
Sharing of the Peace: Learning in Lent:
Sending
Sending Blessing Song: The Peace of The Earth (See Insert)
Dismissal:
Go in Peace, We Walk with Christ.
Thanks be to God.
ANNOUNCEMENTS:
Wednesday March 1 – WORSHIP COMMITTEE at 1 pm
LENTEN OFFERINGS: Special Lenten offering envelopes are available at both entrances. Lenten offerings this year are designated to CLWR for earthquake relief.
SEWING GROUP NEWS: With the assistance of Anwar Dost, Vice-President of the Brantford Muslim Association, 110 blankets, both adult and child size, will be shipped to a warehouse in Toronto for further shipment to the earthquake areas in Turkey and Syria. Anwar Dost has assisted us in the past with the settlement of our refugee family. Many thanks to Mr. Dost and staff, all members of the Sewing Group, and all who support us making the gift of these blankets possible. We look forward to beginning work on our next projects to serve those in need.
Jeanne Boulé and Liz Mongeon
THANK YOU: Please see the bulletin board for a note from Rita Hamilton for her plant.
TODAY WE ARE PRAYING FOR:
Luke Splettstoesser Jackie Marlene Sams and Ruby
David Neumann Otto Philipp Patty Davis Scott Hagglund Stephen Kovacs Gladys Souliere Florence Smith Maya James Eberhard
Grace Mueller The Family of Barbara Schein